WILD EARTH
LIVE | LIFE | ADVENTURE
USTRALIAN OWNED.  EXPERT OUTDOOR STAFF.  FAST FREE SHIPPING*.  EASY RETURNS.  BEST BRANDS & PRICES. ADVENTURE GEAR SPECIALISTS.
Wild Earth is not your typical general camping or hiking store – it is fresh, exciting, and an adventure within itself. Wild Earth caters to all types of outdoor people including outdoor adrenalin seekers, adventure racers, backpackers, travellers or simply families taking an adventure. All these people have a common need; high quality, lightweight equipment, from the World's best brands, at Australia's best prices. Over the last 10 years, Wild Earth has become one of the largest providers of adventure gear that inspires, enables and equips people with everything they need for their lightweight outdoor adventure. Wherever it takes them.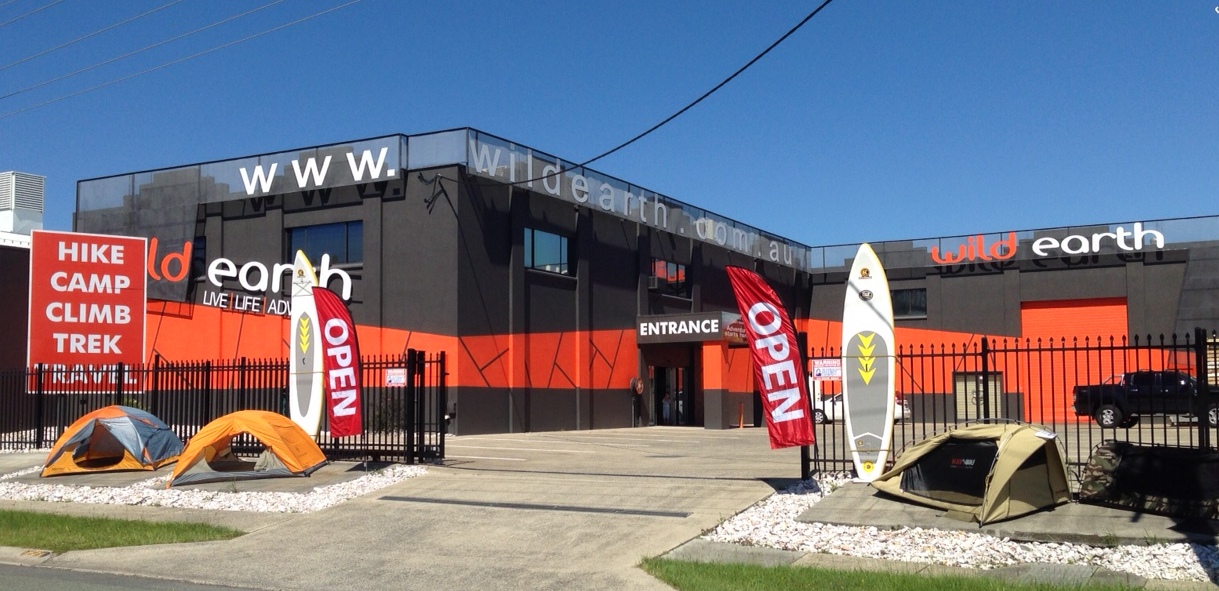 Australia's most comprehensive range of adventure gear
The Wild Earth story started over 10 years ago after opening our massive Gold Coast location (which we still proudly own & operate), and over the years has grown to be Australia's favourite independent adventure gear store. Like all good adventure gear providers, original founders/adventure enthusiasts Jimmy and Shannon Black have adventure in their blood, and still work hard on researching and building the best range of brands and products available anywhere. This outdoor culture is shared and enjoyed with all the staff, who are all experienced outdoor enthusiasts in their own right. At Wild Earth we are proud to say we have one of the highest customer retention rates of anyone around.
Why buy from us?
Because we are Australia's leading independent service orientated adventure store. Try us today. Unlike many other sellers, our value-added service extends beyond the payment for your product. At Wild Earth, we balance price with service. In addition to our everyday low prices, when you buy from us you get super fast delivery, a genuine and registered Manufacturers warranty, expert technical advice from passionate outdoor staff, access to spare parts, ongoing customer support, access to our loyalty program, knowledge base & on-location support. There are plenty of discount operators out there, some with cheaper prices, but all you get from them is a cheap price. If it's just a price you're after, then these guys might be for you, but if you're after a service orientated company that won't sell any other way then welcome to our store.
Buy & shop with peace of mind.
Being an independent business also gives us the freedom to source, and test, the best quality products at the best prices from a large range of suppliers, as well as some exclusive international brands. With over 2500sqm of floor space, and massive volumes, we have tremendous purchasing power from the big brands, so we aim to pass these prices onto you. Our prices are super competitive and combined with our renowned fast and reliable shipping service.
We aim to offer the same practical expert advice and professional service on-line as is offered in our store. Any queries regarding sales, products or expert tips please e-mail us on:[email protected]
Our cheap shipping prices are live up to date prices with Australian post and selected couriers. We offer payment via credit card and PayPal. Our website is state of the art, safe and secure, using a 128 bit SSL encryption protocol, the most secure online-shopping protocol.
We are proud of our impeccable customer service record and will go to extraordinary lengths to keep our customers happy. Wild Earth will replace or refund any item that is faulty or damaged on arrival. Refer to our returns policy for more details.
5 Reasons not to shop anywhere else
WORLD'S LEADING BRANDS
We are committed to bringing you the best products from the world's leading brands. These include our own Sea to summit, thermarest, Scarpa, Vango, Osprey, MSR, Black diamond, Camelbak, Tatonka, Black Wolf, Marmot and Smartwool to name a few. Exclusive to Wild Earth only are major brands such as Big Agnes, Klymit, Sahara Swags and Crazy Creek
STAFF IN THE KNOW
When you visit our store, or talk to our Customer Service Team on the phone, you will deal with staff that love the outdoors. Sure, they're highly trained in their jobs, but more importantly they use our gear for every adventure they embark on. That's why they're experts.
PRICE MATCH POLICY
If you find an identical product somewhere else in stock at a lower price, let us know and we'll happily match it (see criteria)
GREEN POLICY
At the heart of Wild Earth is a strong commitment to the environment and preservation of our wilderness.  We actively support and volunteer to such foundations as PETA, MCGRATH FOUNDATION, IFAW, RSPCA, Wilderness Foundation and Leave No Trace Australia. We are now also the Major equipment sponsor for The Kokoda challenge and Kokoda Youth Foundation charity program!
MANUFACTURER AND WILD EARTH BACKED GUARANTEE
Wild Earth stands by all the product we sell. Should any item have a defect in materials or workmanship, even after use, we will repair, replace or exchange it at our discretion and within our powers.
#DUMPFRUCTOSE
VEGAN. GLUTEN FREE. FRUCTOSE FREE.